Dear NOF members and others interested in Acta Orthopaedica,
Included in this month's newsletter, you will find information regarding how to join our mailing list, 2 selected article highlights, and a clickable list of the 4 latest publications.
Best regards,
Anders Rydholm
Editor-in-chief
This newsletter is usually circulated twice a month and should have been forwarded to you as a NOF member by your national society head (Denmark, Estonia, Finland, Iceland, Lithuania, Norway, Sweden, the Netherlands). This mode of distribution can, however, be slow or unreliable due to outdated contact information. An alternate way to ensure that you receive this newsletter directly as it is published is to join our mailing list by clicking on the link below.    

 
 
Outcomes of trabecular metal total ankle replacement: a longitudinal observational cohort study of 239 consecutive cases from the Swedish Ankle Registry
Anders Henricson, Alexandra Undén, Åke Carlsson, Lars Jehpsson, Björn Rosengren
Acta Orthop 2022; 93: 643-651.
The evolution story of TAR is similar to that for TKR. 2-component implants, constrained and unconstrained and 3-component designs with fixed or mobile bearings have been tested with different fixation methods (cemented/noncemented with different surface coatings such as hydroxyapatite and trabecular metal) with steadily improved implant survival. The Swedish Ankle Registry has played an important role in sorting out under-performing TAR designs.
The here presented results with the fixed bearing 2-component TM ankle, even if short-time, look promising. The lateral approach allows for deformity correction better than the anterior approach, but it is time-consuming. The 95% 3-year survival, the very low infection rate and high patient satisfaction rate is impressive, but it is a pity that only 50% of the patients answered both PROMs (SEFAS/EQ-5D/EQ-VAS). An advantage of the lateral approach is that shortening fibular osteotomy in severe varus ankles as well as some lengthening in valgus ankles is possible.
Plate fixation of the fibula prolongs the surgery time and bears the risk of infection, and fixation could perhaps be done with more time-saving methods. After several hours spent on the main procedure, osteotomy fixation with plate and screws delays closure and may lessen the surgeon's enthusiasm for the method  (see Figure). It is almost unbelievable that no non-union of the fibula were reported.
Trabecular metal coating seems to function as well as it does in the knee, and no aseptic component loosening was found. Polyethylene wear will perhaps in the long run be a more common reason for revision than aseptic loosening.
Survival of TARs may differ considerably dependent on the selection of ankles. Information on preoperative deformity is important and it is a pity that such data seldom are available or presented.  The safest way to avoid revision TAR is to fuse the ankle from start! If ankles with large deformities are excluded the implant survival will improve and a way to obtain good survival data is to keep to neutral ankles.
Urban Rydholm, Co-editor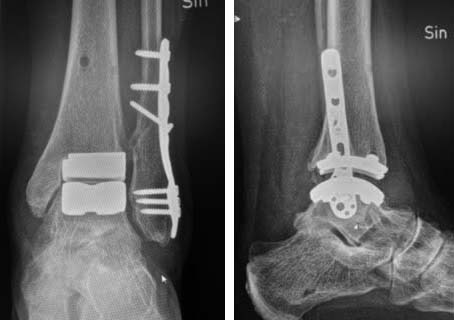 Implant surface culture may be a useful adjunct to standard tissue sampling culture for identification of pathogens accounting for fracture-device-related infection: a within-person randomized agreement study of 42 patients
Nan Jiang, Yan-jun Hu, Qing-rong Lin, Peng Chen, Hao-yang Wan, Si-ying He, Paul Stoodley, Bin Yu
Acta Orthop 2022; 93: 703-708.
Much effort has been laid down to improve the diagnostic techniques in cases of infected orthopedic implants. The present study by Jiang et al. is based on an interesting concept, i.e., culture of the causative bacteria on the surface of the infected implant itself. The method is not new, and was described as Agar Encasement Culturing Method (AECM) in 2011 as part of a broader approach to diagnose an infected ankle prosthesis (1). Later the implant surface culture technique was improved and renamed as (agar) Candle Dip method (2). As the name implies, the potential infected implant was submerged for a short time in agar, and then incubated in a sterile container for 7 days.  In the present study a hybrid method is applied. The implant is covered with a layer of agar and eventually supplemented with agar to avoid  that the surface would dry out. Compared to standard culture of tissue, the implant surface culture method showed higher sensitivity and a shorter culture time. The Jiang et al. method. is not a standardized method, it is rather work consuming and it depends on a collaboration with an enthusiastic department of medical microbiology. And, finally, the method must allow in situ culture of implants of very different sizes – from large revision prosthesis and intramellularly nails to small screws and plates. We look forward to even more prospective studies on implant surface culture.
Eivind Witzø, Co-editor
References
Stoodley P, Conti SF, DeMeo PJ, Nistico L, MeltonKreft R, Johnson S, et al. Characterization of a mixed MRSA/MRSE biofilm in an explanted total ankle arthroplasty. FEMS Immunol Med Microbiol 2011;62:66–74.
Moley JP, McGrath MS, Granger JF, Sullivan AC, Stoodley P, Dusane DH. Mapping bacterial biofilms on recovered orthopaedic implants by a novel agar candle dip method. APMIS 2019; 127(3): 123-130