CHARLOTTE ENGELKES NEWSLETTER
6 april 2022. Scroll down for English version!
GULDET på Regionteatern i Växjö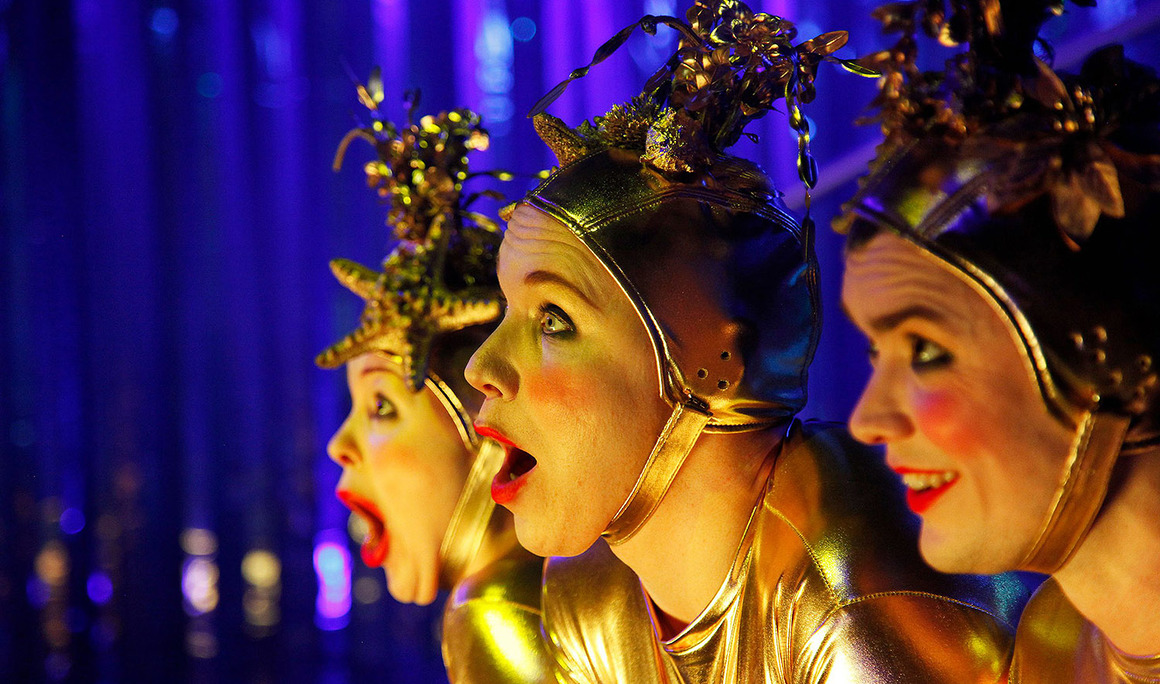 Charlotte Engelkes lekfulla version av Rickard Wagners opera Rhenguldet har premiär på Regionteatern i Växjö den 9 april. I GULDET blandas opera, parkour, dans och skådespeleri i ett spektakulärt och musikaliskt äventyr. GULDET handlar om att dela lika, om att stjäla, om att ha all makt och få bestämma över någon annan, om att hjälpa någon, om att få vara tillsammans och leka.
– Att sätta upp GULDET igen är ett drömuppdrag, säger Charlotte Engelkes. 
Regionteatern Blekinge Kronobergs egen ensemble medverkar i föreställningen GULDET, som i vår även spelas i Karlskrona, Karlshamn och Älmhult. GULDET hade urpremiär på Kulturhuset Stadsteatern Skärholmen 2016 och har spelats över 100 föreställningar, med en spelperiod på Malmö Opera 2017 och blev utvald att visas på BIBU 2018.
- Det är så oerhört roligt att ha fått i uppdrag att sätta upp min favoritföreställning GULDET igen och med en otroligt fin ensemble som gör den till en helt ny, unik version. GULDET ger så mycket glädje och det ska bli spännande att möta publiken i Region Blekinge Kronoberg.
GULDET är en familjeföreställning, skapad för folk från 5 år och uppåt. 
– Det första jag tänkte var att jag vill visa storslaget skådespeleri, musik, parkour och sång. Att inspirera barnen genom att visa fullskalighet i artisternas olika uttryck. Att barnen skulle få det allra bästa. Det kändes oerhört stort och viktigt.
GULDET är inspirerad av Wagners opera Rhenguldet. Det betyder att det blir massa Wagners musik. Det ingår också specialskriven ny musik av Willi Bopp, som ligger som ett soundtrack genom hela föreställningen, i ett hopkok med Wagners.
Läs mer och se turnéplan på Regionteater Blekinge Kronobergs hemsida här.
ENSEMBLE Alexander Lindberg, Elin Rusk, Isak Nordström, Måns Rudfeldt
IDÉ, KONCEPT OCH KOROEGRAFI Charlotte Engelkes
MUSIK Richard Wagner
SOUNDTRACK Willi Bopp
KOSTYM Anna Ardelius 
LJUS OCH SCENDESIGN Karl Svensson
ASSISTANT DIRECTOR Anna Widing
En Astarte produktion i samarbete med Regionteatern Blekinge Kronoberg med stöd av Statens Kulturråd, Sveriges Författarfond, Kulturbryggan, Konstnärsnämnden och Stockholms Stad. Framtagen på Kulturhuset Stadsteatern i Skärholmen 2016.
MIN MAMMA på Strindbergs Intima Teate

r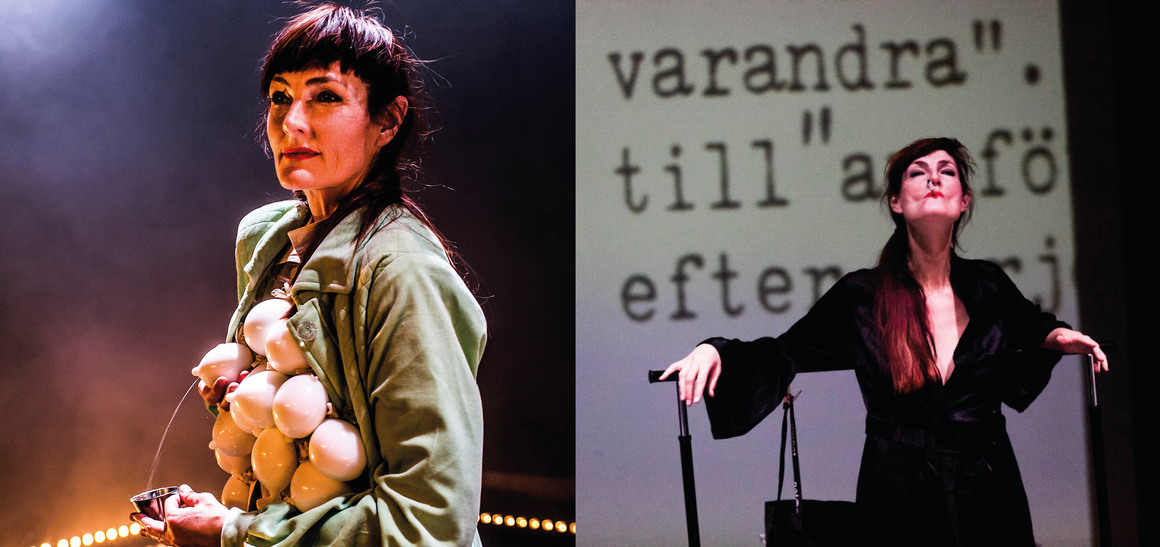 Den 13-15 maj är den hyllade musikal-dokumentären MIN MAMMA, som hade premiär 2016, tillbaka med ett gästspel på Strindbergs Intima Teater. 
På scenen är mamman, som hon är, var och det som blev kvar. Galen, förtvivlad och rasande rolig. Genom minnen som doften av nystruken tvätt, blandat med rädslan för att bli bränd finns hon närvarande genom våffelsmet och storslagna sångnummer. Föreställningen är en hyllning som mer eller mindre halsbrytande reflekterar våra mammor, genom deras egna texter, bilder och minnen. Alltid med kärlek, varsam hand och glödande övertygelse. Elaka, vackra och alkoholiserade, men också filosofiska, döda och påtagligt närvarande. I dom bor kärleken, hopplösheten och framtiden.
Tillsammans med dokumentärfilmaren Erik Pausers inramning, Sophie Holgerssons texter och Willi Bopp's förtrollande ljudvärld blir MIN MAMMA allas mamma. Charlotte Engelkes spirituella och alldeles egna sprudlande scennärvaro sjunger, överraskar och underhåller.
"Personligt, smärtsamt och drastiskt blir det när Charlotte Engelkes gör en dokumentär musikal om sin mamma – en hyllning till alla mödrar"  Anna Ångström, SvD
"… jag har nog aldrig sett henne så svart som nu. Svart som i rolig med stor närvaro." Loretto Villalobos, Aftonbladet
KONCEPT OCH IDÉ - Charlotte Engelkes och Sophie Holgersson
REGI Charlotte Engelkes
KOREOGRAFI Bo Arenander
TEXT Sophie Holgersson, Charlotte Engelkes.
MUSIK Willi Bopp
VIDEO Erik Pauser
KOSTYM Anna Ardelius
LJUS Karl Svensson
ANIMATIONER Venus Krantz och Alessandro Stigiliano
En Astarte Produktion med stöd från Statens Kulturråd, Kulturbryggan, Konstnärsnämnden och Sveriges Författarfond
In English:
Charlotte Engelke's THE GOLD at the Regional Theater in Växjö (SE)
Charlotte Engelke's playful version of Rickard Wagner's opera The Reingold premieres at the Regional Theater in Växjö on April 9th. In THE GOLD, opera, parkour, dance and acting are mixed in a spectacular and musical adventure. THE GOLD is about sharing equally, about stealing, about having all the power and being able to decide over someone else, about helping someone, about being together and playing.
- To direct THE GOLD again is a dream assignment, says Charlotte Engelkes.
It is the theatre´s own ensemble that participates in the performance THE GOLD.  The performance will be shown throughout the region during the spring. THE GOLD premiered at Kulturhuset Stadsteatern Skärholmen in Stockholm in 2016 and has been performed over 100 times, shown at Malmö Opera in 2017, and selected to be shown at Bibu, the most important meeting place in Sweden for performing arts for young audiences, in 2018.
- It is so great to be commissioned to direct my favorite show THE GOLD again and with an incredibly fine ensemble that makes it a completely new unique version. THE GOLD gives so much joy and it will be exciting to meet the audience in the Region Blekinge Kronoberg.
THE GOLD is a family show, created for people from 5 years and up. 
- The first thing I thought was that I want to show great acting, music, parkour, and singing. To inspire the children by showing full scale in the artists' different expressions. That the children would get the very best.
THE GOLD is inspired by Wagner's opera The Rheingold. That means there will be a lot of Wagner's music. It also includes specially written new music by Willi Bopp, which is a soundtrack throughout the show, in a concoction with Wagners.
Read more and see more tour dates on Regionteater Blekinge Kronoberg's website here.
ENSEMBLE Alexander Lindberg, Elin Rusk, Isak Nordström, Måns Rudfeldt
IDEA, CONCEPT AND SCENOGRAPHY Charlotte Engelkes
MUSIC Richard Wagner
SOUNDTRACK Willi Bopp
COSTUME Anna Ardelius 
LIGHT AND STAGE DESIGN  Karl Svensson
ASSISTANT DIRECTOR Anna Widing
A production by Regionteatern Blekinge Kronoberg and Astarte Production with the kind support from The Swedish Arts Council, Kulturbryggan, The Swedish Writers' Union, The Swedish Arts Grants Committee, and Stockholms City. Developed at Kulturhuset Stadsteatern in Skärholmen 2016.
Charlotte Engelkes brings MY MOTHER back to Stockholm (SE)
On 13-15 May, the acclaimed documentary-musical MY MOTHER, which premiered in 2016, is back with guest performances at Strindbergs Intima Teater in Stockholm.
MY MOTHER is a celebration of all mothers in the shape of a new genre, a documentary-musical, where all mothers, no matter how mad, bad or sad will get some loving attention. Engelkes calls it an embracing celebration of pleasure and pain. The performance brings in documentary material and performing arts together in the space between personal and global issues.
The performance is a tribute that more or less heartbreakingly reflects our mothers, through their own texts, images, and memories. Always with love, gentle hand, and glowing conviction. Evil, beautiful, and alcoholic but also philosophical, dead, and clearly present. In them lives love, hopelessness, and the future.
We all have connections to mothers, dead or alive, good or bad, glad or sad, or sometimes just mad. In focus are our own mothers to tell the story of many. Engelkes directs and performs MY MOTHER with new music by sound designer Willi Bopp, in collaboration with text writer Sophie Holgersson and filmmaker Erik Pauser. Charlotte Engelke's spiritual and very own exuberant stage presence sings, surprises, and entertains.
IDEA AND CONCEPT Charlotte Engelkes, Sophie Holgersson
ON STAGE Charlotte Engelkes
DIRECTOR Charlotte Engelkes
TEXT Sophie Holgersson, Charlotte Engelkes and our dead mothers
SOUNDTRACK Willi Bopp
DOCUMENTARY VIDEO Erik Pauser
COSTUME Anna Ardelius
CHOREOGRAPHY Bo Arenander
VIDEO AND GRAPHIC DESIGN Venus Krantz and Alessandro Stigliano
LIGHT Karl Svensson

An ASTARTE PRODUCTION with kind support from The Swedish Arts Council, Kulturbryggan, The Swedish Writers' Union, The Swedish Arts Grants Committee, and Stockholms City. 
 CHARLOTTE ENGELKES/ASTARTE PRODUCTIONS