All is Divine
Charlotte Engelkes återvänder till Dansens hus med en ny länk i sitt Wagnerprojekt The Very Ring.
En ensemble av fem bländande Valkyrior tar sig an eviga frågor om systerskap, förbjuden kärlek och förhållandet mellan gudar och människor i allmänhet.
All Is Divine förhåller sig fritt och lekfullt till den mytologiska världen i Richard Wagners Nibelungens Ring men understryker att människor är i högsta grad gudomliga och därmed ansvariga.
Medskapande i denna very much pågående Allkunstverkproscesse är liksom tidigare skådespelaren Lindy Larsson. Denna gång har han sällskap av hovsångerskan Ingrid Tobiasson och tre scenkonstnärer från Singapore.
Den tyske ljuddesignern Willi Bopp skapar i samarbete med Engelkes ett unik soundtrack utifrån Wagners originalmusik tillsammans med nytt material.
24, 26 Oktober
Dansens Hus, Stockholm
Biljetter och information
7, 8 December
Nordwind Festival, Kampnagel, Hamburg
Biljetter och information
IDÉ, REGI Charlotte Engelkes
ENSEMBLE Charlotte Engelkes, Lindy Larsson, Celine Rosa Tan, Ingrid Tobiasson, Chan Sze Wei
MUSIK Willi Bopp, Richard Wagner
TEXT Charlotte Engelkes, Sophie Holgersson
KOSTYM Anna Ardelius
LJUS, SCEN Karl Svensson
VIDEO Brian Gothong Tan
DRAMATURGI Katarina Aronsson
REGIASSISTENT Anna Widing
SCENTEKNIK Henrik Enar
PRODUKTION Birgit Lindholm
SAMPRODUKTION Dansens Hus Med stöd av Statens Musikverk, Kulturrådet, Konstnärsnämnden, Stockholms stad, National Arts Council Singapore, Kungliga Operan, Goethe-Institut
All is Divine
In this very much ongoing Allkunstwerkprocesse Charlotte Engelkes gathers an ensemble of five extraordinary Valkyries and lazy mermaids from the Rhine to examine true sisterhood, incestuous love, giants fights and gods in general.
All Is Divine flirts with Wagner's "Twilight of the Gods", however suggests we are all divine and responsible.
Personal and playful the ensemble depicts how the mythological opera world relates to the real one.
On stage are Charlotte Engelkes, actor Lindy Larsson, Royal Court Singer Ingrid Tobiasson and the Singapore performers Celine Rosa Tan and Chan Sze Wei along with the astonishing works of visual artist Brian Gothong Tan.
In collaboration with Engelkes, the German sound designer Willi Bopp creates a new strong and magic storytelling landscape from Wagner's original music.
October 24, 26
Dansens Hus, Stockholm
Tickets and information
December 7, 8
Nordwind Festival, Kampnagel, Hamburg
Tickets and information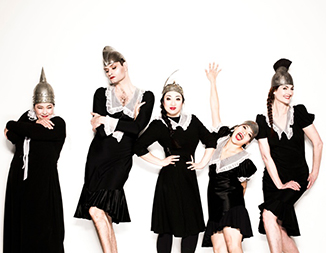 Photo: Mats Bäcker