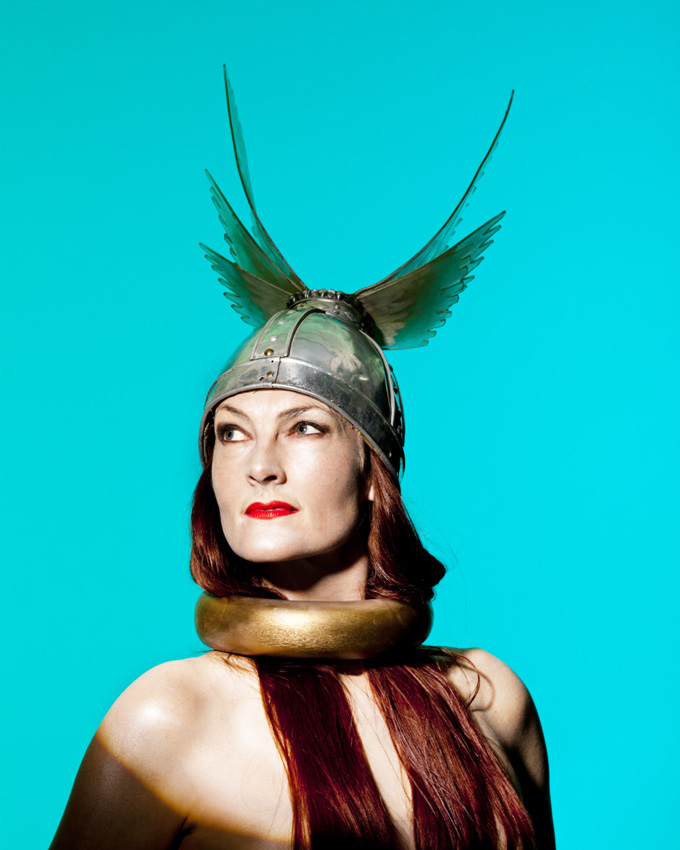 Photo: Mats Bäcker
Premiers, performances and more
January 26 - March 2
Flygande Holländare
Premier January 26. Helsingborgs Stadsteater, Helsingorg.
On the basis of Wagner's opera The Flying Dutchman, this performance tells the legend of the captain who is condemned to sail the sea for eternity – until he is saved by a womans devoted love - in a totally new way. With Bo G Andersson, Ester Claesson, Dan Kandell, Annika Kofoed, Robert Olofsson, Josef Palm, Henrietta Wallberg. Music: Willy Bopp, Richard Wagner, Swedish Schlagers. Light and stage: Karl Svensson. Costume: Anna Ardelius. Dramaturg: Karen-Maria Bille.
www.helsingborgsstadsteater.se
February 9 - 12
Fröken Julie - The Musical
The Royal Dramatic Theatre, Stockholm.
Charlotte Engelkes and Andreas Rothlin Svensson. Engelkes version of Miss Julie by August Strindberg was an international succes when opening in Hamburg Schauspielhaus 2002. Now Miss Julie - The Musical is guestplaying at Dramaten in Stockholm. Music: Johan Berke, Charlotte Engelkes.
"Hon (Charlotte Engelkes) och Rothlin Svensson är mitt i knasigheterna den finaste duo jag sett på Dramaten på länge. De uttrycker kärlekens tafatthet och åtrå, individens eviga vankelmod och närhetens ensamheter, så man faktiskt hade kunnat gråta om man inte varit så upptagen med att skratta."
- Expressen. Full review: expressen.se
"Charlotte Engelkes är en urkraft. Hon hoppar över tvivel, gränser och behärskning. Engelkes kliver rakt genom alla typer av förbud och tabun. Hon är ett rödhårigt utropstecken som går som en vass kniv genom allt hon ger sig på med sin blandning av performancekonst, burlesk och dans."
- SvD. Full review: svd.se
March 1
Very Wagnerian Night
The Royal Swedish Opera, Stockholm.
Please note! One evening only! Charlotte Engelkes and Lindy Larsson.
For one evening The Royal Swedish Opera presents Charlotte Engelkes' praised performances Miss Very Wagner and Siegfried – The Very Wagner Hero Hour. With passion, courage and humour Engelkes takes on the operatic giant Richard Wagner and uses all of her rich theatrical imagination. It's fun, serious and filled with references to the opera world. Music: Willy Bopp, Richard Wagner. Costume: Lotta Nilsson, Anna Ardelius. Light and stage: Karl Svensson. Text: Marina Steinmo, Sophie Holgersson.
March 8
International Women's Day 2013 in Paris, Swedish Radio
At UNESCO HQ, Paris. LIVE concert by Swedish Radio.
The project aims to celebrate International Women's Day 2013 with a live concert at UNESCO in Paris. Engelkes participates with special appearances and music. Video Art by Performing Pictures. Arranged and broadcasted by Swedish Radio, UNESCO in collaboration with Radio France.
April 5
Miss Very Wagner in Västerås
At Västerås Concert House, Västerås
The over the world toured solo piece, where Engelkes presents four of the female heroines in the operaworld by Richard Wagner. "The worlds funniest Wagner" SvD. Full review: svd.se
October 10
KIRA - I huset där jag bor
Premier October 10 at Västerås Concert House, Västerås.
A completely new written one-woman opera by and with Charlotte Engelkes. Music by Anders Nilsson, With Västerås Sinfonietta. Text: Sophie Holgersson. Stage design, videoinstallation and costume by Performing Pictures.
October 24, 26
All Is Divine
Premier October 24 at Dansens Hus, Stora Scen, Stockholm.
The third part of the very much pågående Allkunstverk; The very Ring. Engelkes close her inspired by Wagner trilogy and makes her very own comment on Götterdämmerung and the end of the world. By saying we are all Gods and Divine. With Charlotte Engelkes, Lindy Larsson, Ingrid Tobiasson, Celine Rosa Tan, Chan Sze-Wei and Darius Tan. Music: Willy Bopp. Videoart by Brian Gothong Tan. Costume: Anna Ardelius. Light and stage: Karl Svensson. Text: Sophie Holgersson. Dramaturg: Katarina Aronsson.