NORDWIND FESTIVALE BERLIN. December 2, 3 2011. H21.00 Volksbühne am Rosa Luxemburg Platz
She is the director's wife and everything is a question of timing. Especially when you are stuck inside a surprise birthday cake, waiting for the perfect moment to pop up. Thus traumatized, it is no surprise at all that she soon starts a worldwide campaign to fight the sugar-conspiracy.
Immensely funny, breathtakingly intense, truly engaging; Charlotte Engelkes, performance artist, singer, dancer, and actress, works in a unique stage language somewhere between stand-up and revue. Exploring the many facets of the human spirit, Engelkes solo and ensemble pieces have gained her critical acclaim all around the world.
Charlotte Engelkes soloperformance "Sweet" opened in september 2000 at Deutsches Schauspielhaus in Hamburg and has since been a much sought-after performance The piece, created together with Marina Steinmo (text) and Mats Lindberg (music), tells a story of passion, about the fear of sugar, about having a past in the light entertainment business and doing something positive.
The piece has been performed in different dance and theatrefestivals in Sweden, Denmark, Norway, Finland, Germany, Iceland, Singapore, Canada, Liechtenstein, Germany, Luxembourg, The Netherlands, France and Taiwan.
"In each box of chocolates there is a surprise waiting." (...) She does not search far from her own experiences, her own life. Not even, as it seems, when she is telling fairytales. Because where fiction and biography mix, you can also feel, that even stories have their origin in reality- or at least tell something about human longings.
- Frankfurter Neue Presse
TEXT: Marina Steinmo and Charlotte Engelkes
MUSIC: Mats Lindberg
LIGHT DESIGN: Andreas Juchheim, Susanne Ressin
ASSISTANT TO THE DIRECTOR: Patrick Wengenroth
CO-PRODUCED BY Deutsches Schauspielhaus in Hamburg, Künstlerhaus Mousonturm in Frankfurt, with the kindly support from the Swedish Arts Grants Committee
DURATION: 65 minutes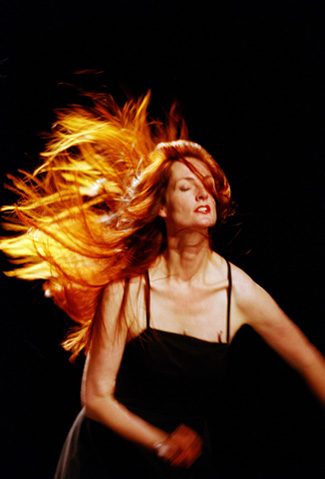 Photo: Arno Declair

SVENSKA
Sweet är Engelkes första solo som hade världspremiär på Deutshes Schauspielhaus i Hamburg 2000 och har sedan dess turnerat olika dans o teaterfestivaler runt i Europa, samt Singapore, Taiwan och Canada. Nu är första gången i Berlin.
I Sweet berättas om passion, ett förflutet i underhållnings branschen, skräcken för socker och om att göra något positivt. Sockerkonspiration blandat med egna sånger, dans och självbiografiska minnesbilder. Stilblandningen i text och musik bygger en bild av ett psyke på drift bland sina livsteman i en samtida sagovärld. Slutet kan bara beskrivas som en våldsamt nedhuggen Decamerone. Sweet är 65 min kvinnosolo med överraskningar, förvridningar, starka känslor och mycket skratt.
IDE OCH REGI: Charlotte Engelkes
TEXT: Marina Steinmo, Charlotte Engelkes
MUSIK : Mats Lindberg
REGIASSISTENT: Patrick Wengenroth
LJUSDESIGN: Andreas Jucheim, Susanne Ressin
En Astarte produktion i samarbete med Deutsches Schauspielhaus Hamburg. Künstlerhaus Mousonturm Frankfurt. Med stöd från Konstnärsnämden.
SPELTID: 65 minuter