For English scroll down 
Med en fantastisk och unik ensemble bestående av Lindy Larsson, Ida Lod, Jonas Nilsson och Måns Rudfeldt har Engelkes skapat ytterligare ett verk inspirerad av Wagners operavärld; GULDET med teater, dans och parkour för hela familjen.

Sjöjungfrun är ledsen. Guldet är borta! Vart tog det vägen och vad är egentligen guld? Modige Måns söker i vattnet, på slottet och ända ned till underjorden. Han möter gudar med pengaproblem, hungriga jättar och en glömsk gammal drake.
En glimrande musikalisk sagovärld inspirerad av operan Rhenguldet. Från 5 år och uppåt!

GULDET - ca 50 min
Av och Regi Charlotte Engelkes
Musik Willi Bopp, Richard Wagner
Kostym Anna Ardelius
Ljus Karl Svensson
Scenografi Karl Svensson, Charlotte Engelkes
Regi assistent Anna Widing
Spelas under hösten 2016 från
14 sept - 7 oktober på Stadsteatern i Skärholmen. Se datum o boka biljetter Skärholmen
12 oktober -5 november på Stadsteatern Hörsalen Kulturhuset. Boka biljetter Hörsalen

GULDET blir den fjärde delen i Engelkes egen ringcykel The very pågående Allkunstverk där tidigare föreställningar ingår; Miss very Wagner, Sigfried- The very Wagner Hero Hour och All Is Divine.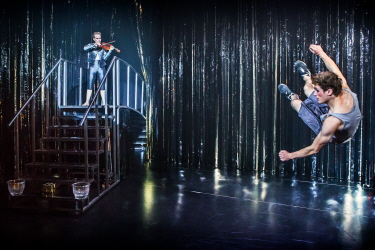 Foto Petra Hellberg
The Gold
Premier Friday 9th September 2016 at 1815
Citi theatre Skärholmen/ Stockholm
Together with the fantastic and unique ensemble, Lindy Larsson, Ida Lod, Jonas Nilsson and Måns Rudfeldt, Engelkes creates a new piece with inspiration from the operaworld by Richard Wagner. The Gold is involving theatre, dance and parcour. Meet the mermaids, gods, giants and an old dragon in a generous and breathtaking performance for the whole family.
A glimmery musically fairytail world inspired by the opera Das Rheingold, up from 5 years old.
The Gold will be performed in the City theatre Skärholmen and the City theatre Kulturhuset, Sergels Torg during Sept, Oct and Nov. See dates and tickets